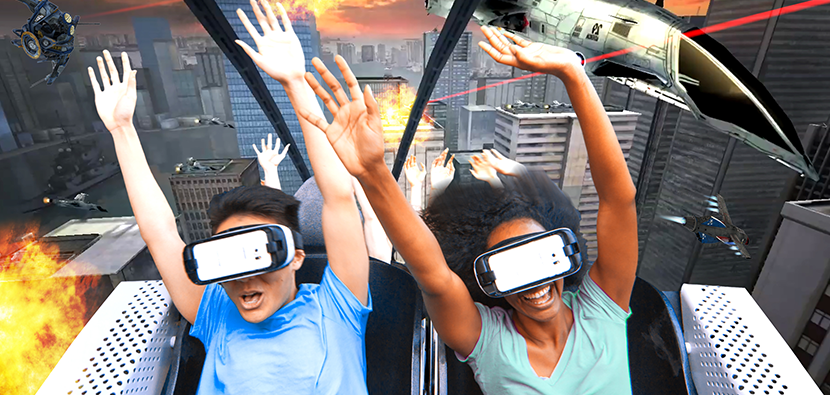 Virtual reality (VR) is a revolution in the Entertainment industry. Entertainment businesses are taking advantage of incorporating VR into their products. Not all video games are attractive to users, but VR is the opposite. Virtual reality gives users an experience far beyond imagination. The total value of the VR market is estimated to reach US $ 38 billion by 2026.
Virtual reality is transforming utopian things into life. Gradually Virtual Reality (VR) is rapidly becoming more familiar in our daily lives. The combination of VR technology in entertainment platforms is helping businesses connect and reach users around the world. The advent of VR headsets like the HTC Vibe and Oculus Rift is a testament to a new potential for Virtual Reality.
VR in the field of entertainment
Regarding the growth of VR users, the total number of global VR users was estimated to be 43 million in 2016 and unexpectedly reached 171 million in 2018. Investors in the entertainment sector have also started to take advantage of advantages of this type of potential technology.
It is predicted that by 2025, the VR market will reach and reach the revenue milestone of one billion dollars, surpassing video games. It sounds suspicious, but the entertainment industry is one of the most lucrative and it will be even more profitable when combined with VR. Industry giants have produced 360-degree video games, remotely operated devices that can mimic real-life human situations.
VR is a factor that eliminates barriers to distance and authentic interaction with simulation experiences. When VR technology is combined with specialized headsets, users will have an authentic experience like being in a simulation and interaction environment with it. That is the interesting thing about this technology. The entertainment industry always integrates new technologies to attract customers. Predicting in the near future, the type of entertainment will be applied advanced interactive 3D technology.
Virtual reality in gamification
The type of VR game is a revolution in the computer game industry. Players can experience the perspective of game action through a variety of VR gaming gear and accessories.
VR has huge potential in the gaming industry and is showing rapid growth. This type of game is more developed than ever thanks to the feature of bringing users into a virtual environment, immersive in a three-dimensional game environment. Therefore, VR games allow users to not only observe the game's 360 video content but also feel it.
Amusement park
VR theme parks are expected to provide a different experience and delight to users. VR is a new solution that makes the amusement park special and more attractive than traditional parks.
Live concert
VR offers endless opportunities to experience music in a new way. Users will have the opportunity to immerse themselves in a live music performance right at home! Virtual reality concert will be fully simulated, including 3D images of artists and their surroundings.
Sport game
The game will be built in 360-degree format. With this solution, users will wear virtual reality headsets and experience vivid sports games. Best of all, it's also an advanced solution for broadcasting VR sports matches. Live sports using Virtual Reality technology will bring a vivid experience at home.
Virtual Reality museum
Virtual Reality Museum will display a virtual display space with full display information.
Check out the DFM Virtual Reality Museum:
n short, Virtual Reality has countless applications in all fields. Virtual Reality technology was born as a turning point in the history of entertainment thanks to the stimulating environment of art and more interactive experience than traditional solutions before. This turning point also marks the power of VR with other areas.